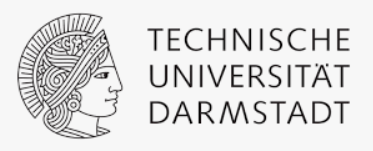 The Technische Universität Darmstadt (TUD) is one of Germany's leading technical universities. It has around 300 professors, 4,500 employees and 26,000 students devote their talents and best efforts to the significant future research fields energy, mobility, communications and information technologies, housing and living conditions. The wide variety of disciplines represented are all focused on technology, as viewed from the vantage point of engineering, the natural sciences, the humanities, and the social sciences, and cover the full range of academic endeavor, from the origination of basic concepts to practical, everyday applications.
TUDa is Germany's first autonomous university and has a state-funded budget of 245,2 million Euros (2016, incl. building funds). Its capacity for innovation is evidenced inter alia by the steady growth in annual funding received from outside sources. The 163,5 million Euros contributed by industry, the Deutsche Forschungsgemeinschaft, and the European Union for 2016 make it one of Germany's leading academic recipients of third-party funding. In renowned rankings by the Deutsche Forschungsgemeinschaft, the Alexander von Humboldt Stiftung, and the Zentrum für Hochschulentwicklung, as well as polls of the personnel directors of major corporations, it has consistently corroborated its leadership in research, academic excellence, and its qualification of graduates for top jobs and successful careers.
In its internationalization strategy, TUDa seeks to develop a culture of diversity, promote tolerance and acceptance and qualify graduates for positions in both global science and business. International students are integrated into the university and student life not only with regard to language but also culturally and socially. TUDa intends to continue improving its study preparation for international students as well as its mentoring, particularly when students first arrive and during the initial phase of courses attendance. At the same time, the university encourages international students to take responsibility for shaping their course and becoming integrated into campus and community life.
With its particularly high percentage of international students, TUDa is one of the most international universities in Germany; in addition, it is globally connected with more than 270 partner universities in 56 countries. TUDa is globally visible thanks to excellent research in defined focus areas and benefiting also from its location in the Frankfurt-Rhine-Neckar metropolitan region, one of Europe's leading scientific and economic regions. TUDa is a member of the CLUSTER-consortium of leading European universities in science and engineering and of other European university networks
Activities and experience of the partner organisation in the areas relevant for this project
The TU Darmstadt has a long and broad experience in the development of double/joint/multiple degree programmes. At the moment TUDa is able to offer its students more than 40 joint programme opportunities worldwide. 9 out of the 13 academic departments of TUDa are contributing to that overall number.
The two faculties for "Computer Science" and "Electrical Engineering and Information Technology" will be directly involved in the project and contribute by reforming new and/or existing joint programmes according to the overall goals of this project. The department of Computer Science at TUDa currently offers three double degree programs with institutions in France (Grenoble INP, EC Lyon and EURECOM). Two more double degree programmes are planned at the moment: one with TU Vienna (for students in the IT Security Master program), and one with Universitas Indonesia, Jakarta (for students in the "Distributed Software Systems" Master program). The department of Electrical Engineering is at the moment offering the broadest variety of JPs among all departments of TUDa, with already 15 double degree opportunities on the Master level: 6 double degrees are available with 6 different École Centrales in France; 4 programmes are executed with universities in Spain (also UPC); and one each from Norway, Sweden (KTH), Italy, USA and Brazil.
The programs of these two departments differ significantly from each other: e.g. European vs. non-European partners, different languages of instruction, integrated vs. extended programs, different types of study programs. As such, the two departments have gained broad experience in setting up and running JPs and are in a good position to explore and evaluate innovations in this field, including the development of stronger collaborations with industry partners.
In this project the office for international relations and mobility – as responsible unit for the central administration of joint programmes – will cooperate intensively with academic departments involved in the project. In addition, the staff members of the office for international relations and mobility have much experience in organizing big events with external participation, e.g. Erasmus+ staff training weeks.
Further cooperation partners within TUDa for the project will be the centre for academic didactic, which will be responsible for surveys on graduates of the TUDa. During the project term TUDa is hoping to involve even more academic departments than the two mentioned above, ensuring a wide participation of academic staff.
Skills and/or expertise of key persons involved in this project
Dr. Andreas Winkler, funding and policy advisor for internationalization at TUDa, is one of the key persons involved in the project. He brings extensive experience in European funding projects and will manage and coordinate the project participation of TUDa. Together with the university governing board, Winkler is further developing the internationalization strategy of TUDa, including a new university strategy on joint programmes. Furthermore, Dr. Winkler is well-versed in quantitative and qualitative methods, having conducted extensive field work for his research.
Ms. Pia Schmitt, Partnerships and Mobility Manager for Asia at TU Darmstadt, has gained comprehensive experience in developing new collaboration and joint programmes with partner universities, not only in Asia. Her focal points include the development of policies and concepts for (joint) educational projects in close collaboration with the Departments. Furthermore, Pia Schmitt is running the combined study abroad and internship programmes with leading international companies like Bosch-Rexroth and Continental. The goal of these efforts is to increase employability for future graduates.
Dr. Radu Muschevici is a scientific staff member and coordinates the current process and implementation of a newly developed double degree program with Universitas Indonesia. He is involved in all aspects of the program (contract negotiations, study plan design, fundraising, admissions, scientific and industrial collaboration, etc.).
Mr. Tim Neubacher is the departmental exchange coordinator at the department of Computer Science and therefore involved in all topics related to exchange affairs (e.g. preparation of exchange programs, contacts to responsible persons in partner institutions, transfer of credits, student advisor for exchange students).